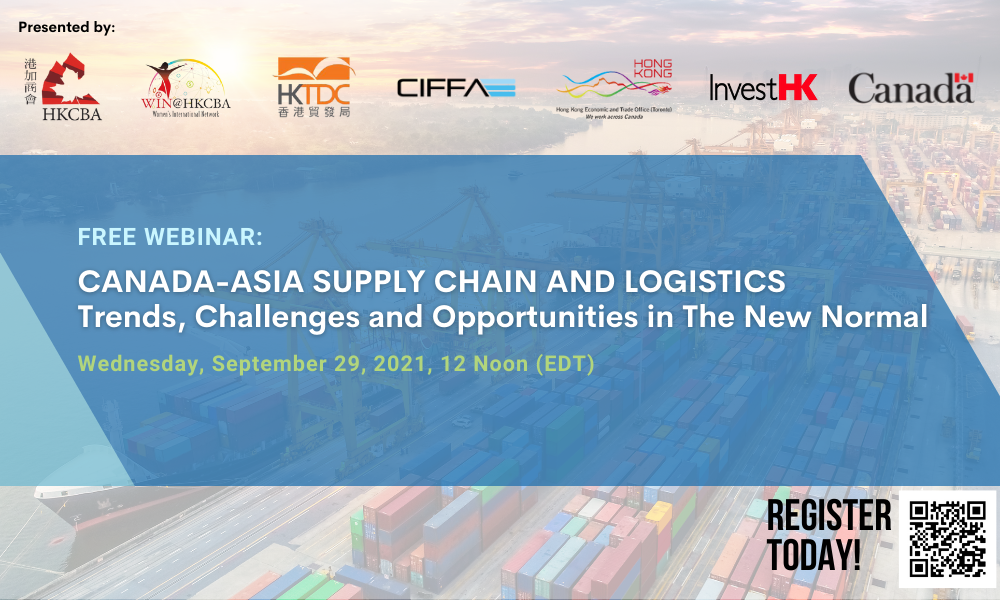 The unabated pandemic impact has created a perfect storm for supply chain and logistics professionals and shippers. They have to contend with such challenges as supply chain bottlenecks, rocketing prices and uncertainties. In addition to finding solutions to ride this storm out, companies are also looking for opportunities. This webinar is designed to share the insights and suggestions from the panel speakers on mitigating the supply chain risks and tapping business possibilities in the new normal with particular reference to the Canada-Asia traffic flow.
(Registrations are complimentary but reservations are required.)
Programme outline
Webinar Chair:

Bruce Rodgers, Executive Director

Canadian International Freight Forwarders Association (CIFFA)

Opening remarks:

Emily Mo, Director

Hong Kong Economic and Trade Office (Toronto)

Krista Eisan, Acting Senior Trade Commissioner

Consulate General of Canada in Hong Kong

Panel discussion and Q&A:

Marko Dekovic, Vice President, Public Affairs

Global Container Terminals, Vancouver

Tim Harrington, Senior Vice President, Import Trades, Canada

MSC Canada

Fred Ruggerio, Vice President Cargo, Americas

Cathay Pacific Airways

Anne Waldes, President & CEO

Trade Link International Ltd.

Remarks:

"Windows of Opportunity for Canadian Companies"

Christopher Chen, Head of Investment Promotion

Invest Hong Kong (Canada)

Andrew Yui, Director, Canada

Hong Kong Trade Development Council

Concluding remarks:

Bruce Rodgers, Webinar Chair
Speaker biographies
Bruce Rodgers, Executive Director

Canadian International Freight Forwarders Association (CIFFA)

https://ciffa.com/

Bruce has been an active participant on the Board of Directors for CIFFA since 2009, and became Executive Director in October 2018. Bruce has several years of senior executive experience with several large transportation organizations, where he successfully bolstered revenue and maximized profitability by combining his high level of business acumen, strong leadership and a continued focus on results. Bruce is well-known for his high level of commitment to anything he becomes involved in, strategic approach, mastery in considering multiple perspectives and solving problems, and ability to connect and collaborate with others at all levels.

Bruce also believes in giving back to the communities he's involved in, and for much of his career has served on the Board of Directors of various industry associations including the Toronto transportation Club and Canadian Courier & Logistics Association.

Outside of work, Bruce lives in Cambridge with his wife, and also enjoys spending time with his four grandchildren.

CIFFA represents some 270 small, medium and large freight forwarding companies in Canada, and has in excess of 160 Associate Members offering products and services to regular members. Please visit www.ciffa.com for details on CIFFA's robust education programs, including professional training on Transport Canada's Air Cargo Security, accredited Dangerous Goods training or workshops on various subjects in addition to accredited Certificate and Advanced Certificate programs. All CIFFA education programs are available to freight forwarders, importers, exporters and third-party service providers.

Emily Mo, Director

Hong Kong Economic and Trade Office (Toronto)

https://www.hketotoronto.gov.hk/

Emily joined the Government of the Hong Kong Special Administrative Region of the People's Republic of China in 2001 as a member of the Administrative Officer Grade. In December 2018, she took up the Director post in the Hong Kong Economic and Trade Office in Toronto, the mandate of which is to foster closer economic trade ties between Canada and Hong Kong, and also promote bilateral cultural relations and people-to- people ties. Before that she had worked in different offices, including the Home Affairs Department, the then Environment, Transport and Works Bureau, the Security Bureau, the University Grants Committee Secretariat and the Tourism Commission of the Commerce and Economic Development Bureau. Before coming to Toronto, Emily served as the Deputy Head of the Human Resources Planning and Poverty Co-ordination Unit under the Chief Secretary for Administration's Private Office to support the Chief Secretary for Administration for monitoring the implementation progress of policy initiatives on human resources planning and poverty alleviation in Hong Kong. Emily received her Bachelor of Arts degree from the University of Hong Kong.

Krista Eisan, Acting Senior Trade Commissioner

Consulate General of Canada in Hong Kong

https://www.canadainternational.gc.ca/hong_kong/

Krista is currently serving in Hong Kong as Consul (commercial) and manager responsible for Foreign Direct Investment (FDI) attraction to Canada and client service to Canadian companies in financial services; clean technologies; and information and communication technologies. Krista was previously appointed to the Consulate General of Canada in Los Angeles, where she worked on a wide range of files including trade policy advocacy (CUSMA - Canada-US-Mexico FTA); extensive work on the promotion of Canadian water technologies in the US Southwest during an unprecedented drought; and oversight of the life sciences and innovation files. Krista also served at the Consulate General of Canada in Sao Paulo, during which time she was responsible for opening two new Canadian trade offices in Recife and Porto Alegre, Brazil, and provided support to Canadian clients in the rail and urban transit sector.

At Global Affairs Canada headquarters in Ottawa, Krista previously worked on science and technology; corporate social responsibility; and in operations support. Krista has worked in the public sector for over 20 years, having formerly worked for Natural Resources Canada; Fisheries and Oceans Canada; and the Province of Nova Scotia. She joined the Canadian foreign service in 2005 and has a Master of Public Administration (Dalhousie University) and Bachelor of Arts (University of Prince Edward Island). Her husband, Paul also works for the Canadian foreign service and they have two kids and a dog. Krista speaks French, Portuguese and German. She enjoys travelling, cooking, hiking, and reading.

Marko Dekovic, Vice President, Public Affairs

Global Container Terminals, Vancouver

https://globalterminals.com/

Marko is an accomplished and recognized public affairs professional, in private, public and not-for-profit sectors. Over the past 17 years he has held increasingly senior management roles, with focus on advancing and executing public policy that has impacted the economies of BC and Canada. Prior to joining GCT, Marko was part of the team at the Vancouver Fraser Port Authority that implemented transformative tactics and strategies, including the launch of a major public awareness campaign, and providing strategic communications for the Vancouver harbour during defining events.

As a senior regional advisor to the Minister of International Trade and Foreign Affairs with responsibility for the 2010 Olympics and the Asia Pacific Gateway Marko played a critical role in delivering on Canada's Asia Pacific Gateways and Corridors Initiative. This included facilitating amalgamation of the three Lower Mainland port authorities into the Vancouver Fraser Port Authority, opening of Fairview Terminal in Prince Rupert, and distribution of over a billion dollars in funding, matched by billions more by provincial, municipal and private sector investments resulting in Canada being recognized internationally for the success of a unique trade, logistics and infrastructure strategy that others have subsequently emulated.

Of particular note is Marko's ability to bring together often divergent stakeholders to collaborate for common solutions. Recently, that skill was put to the test through his leadership role in creation of the Gateway Transportation Collaboration Forum, tasked with identifying, prioritizing and funding needed trade-enabling infrastructure in British Columbia.

Currently Marko serves as the Vice-Chair of the British Columbia Marine Terminal Operators Association (BCMTOA), board member of the National Association of Waterfront Employers (NAWE), and is a member of the Chartered Institute of Logistics and Transport, North America (CILTNA).

Marko graduated from University of British Columbia where he was involved in Alumni affairs. He chaired the UBC Young Alumni Network and was an active member of the UBC Alumni Association Board of Directors. A proud father of three young children, Marko is giving back in his community as a Cabinet member for the "A Night of Miracles" gala in support of the BC Children's hospital, and for the "What Really Matters" campaign in support of a new YMCA facility in Coquitlam.

Recognized for his achievements and demonstrated excellence in business, judgment and leadership in the community, Marko was awarded the Top Forty under 40 by Business in Vancouver in 2017.

Tim Harrington, Senior Vice President, Import Trades, Canada

MSC Canada

https://www.msc.com/

Tim was appointed as the Senior Vice-President of Import Trades, Canada of MSC Canada in February 2020. This role is designed to work with a variety of stakeholders to meet the needs of customers in terms of capacity and service from all origins globally with import cargo destined for Canada.

Prior to joining MSC Canada, Tim had worked with various Ocean Carriers including CAST, Sea-Land, Maersk, NYK, MOL and ONE since 1987 specializing in the commercial arena of sales, marketing and trade Management with increasing roles and responsibilities. The 30-plus years of relationship managed and developed with these organizations is greatly treasured by Tim.

Tim is a graduate of York University with a Bachelor of Arts in English Literature. He had completed a wide variety of course work related to the Supply Chain and International Transportation. (The Ohio State University, American Management Association, Think Inc!, Revenue Storm and SAMA).

Tim and Angela Harrington live in Brantford, ON and have been married for 31 years with 2 children, TJ and Julia. Both children are young professionals in the fields of Logistics and Medicine respectively. Tim's interests include golf, cycling, reading and spending time with his family and friends.

Fred Ruggerio, Vice President Cargo, Americas

Cathay Pacific Airways

https://www.cathaypacificcargo.com/

Fred is Vice President Cargo, Americas at Cathay Pacific Airways, based in Los Angeles, CA. Fred oversees all cargo sales, marketing and operations for Cathay Pacific in the Americas, which encompasses 18 ports. Since Fred's appointment in 2012, seven new ports have been added to the Cathay Pacific Americas network. Boston, Newark, Calgary, Columbus, Guadalajara, Mexico City, Portland, OR with the last five being Freighter ports.

Prior to his role as Vice President, Cargo, Fred was the Director of Sales Eastern USA & Latin America for Cathay Pacific Airways for 16 years, where he oversaw the passenger sales efforts for the Eastern USA and Latin America region.

Fred started with Cathay Pacific Airways in 1984 as an Account Manager in Northeastern USA and has seen the airline grow from its simple beginnings to become one of the most admired international carriers.

Fred is currently an advisory board member of the CNS (Cargo Network Services), and has served as the Chairman of Airlines Sales Managers Association of New York, he was a board member of the Hong Kong Association of New York, and he also served as the President of the Hong Kong Association of Southern California.

Anne Waldes, President & CEO

Trade Link International Ltd.

https://tradelinkinternational.ca/

Anne brings more than 35 years progressive management experience in international logistics and global freight transportation and is at the forefront of developing innovative supply chain solutions for clients with the most complex logistics challenges.

In her current role, for 28 years, as CEO of Trade Link International Ltd., Anne creates bottom line impact for global clients in diverse sectors by optimizing entire supply chains.

Anne is currently Board Chair of Hamilton Oshawa Port Authority (HOPA); is a Director and past President of the Hong Kong Canada Business Association; a board member of Chartered Institute of Logistics and Transportation and regular invited guest speaker on logisitcs and supply chain themes at transportation conferences and events.

A proven dynamic leader with natural strategic instincts, Anne is passionate about logistics transformation approaches that achieve both short-term impact and long-term sustainability.

Christopher Chen, Head of Investment Promotion

Invest Hong Kong (Canada)

https://www.hketotoronto.gov.hk/invest-hong-kong.html

Christopher is the Head of the InvestHK presence for Canada, operating from the Hong Kong Economic & Trade Office in Toronto. As Hong Kong's trade consul and commercial representative for Canada, he is responsible for all activities driving new business development and direct foreign investment. He comes from a digital financial services background with over 20 years of experience living and working in Asia (Hong Kong, Singapore, Tokyo, and Taipei) working for financial services multinationals and digital marketing consultancies. Originally from Vancouver, he is a post-graduate from the University of British Columbia, with fellowships from National Taiwan Normal University and the ISEAS-Yusof Ishok Institute in Singapore.

Andrew Yui, Director, Canada

Hong Kong Trade Development Council

https://www.hktdc.com/

Andrew

was appointed Director, Canada of

HKTDC

in July 1993.

HKTDC

is Hong Kong's statutory body responsible for the promotion of international trade (imports and exports) in merchandise, services and technologies, via the Hong Kong platform. The Council works through a network of 50 offices worldwide. The

HKTDC

Branch Office in Canada, based in Toronto, is established to encourage and assist Canadian companies to diversify their business to Asia through Hong Kong. Since early 2020, to help Canadian companies to beat the

COVID

barrier,

HKTDC

Toronto Office has joined forces with like-minded multiplier partners like

HKCBA

,

HKETO

and many others in staging Canadian virtual missions to online Hong Kong international trade fairs and conferences.
Enquiries: Andrew Yui, Hong Kong Trade Development Council, Toronto Office, Tel: 416-366-3594 or email: andrew.yui@hktdc.org