Registration for this event has passed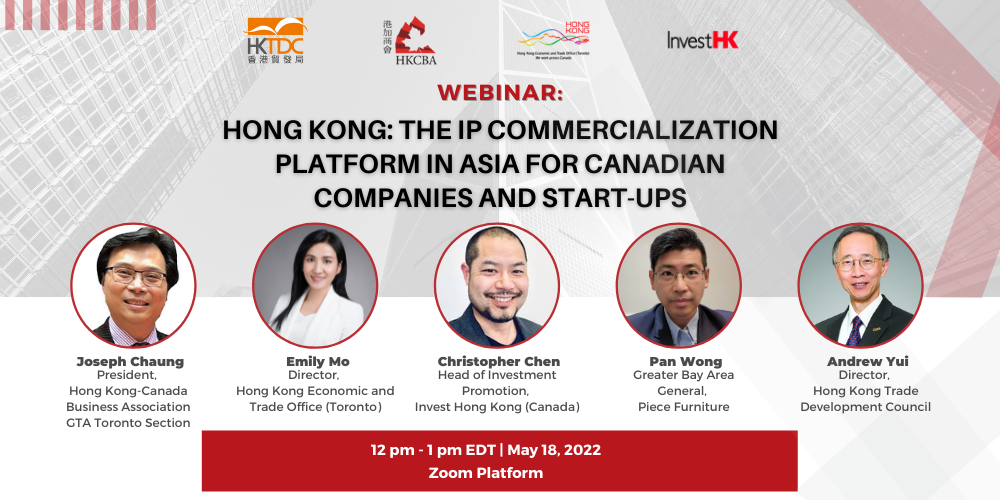 With the world still hard at work managing the COVID-19 pandemic, the subject of sustainable growth and resilience is of utmost importance. Against this backdrop, IP and innovation play a significant role to help businesses and economies meet their sustainability goals, drive strategic development, facilitate cross-sector convergence and shape new values. These developments incubate opportunities. In Asia, these opportunities are further broadened and deepened by China's 14th Five-Year Plan, the Greater Bay Area (GBA) Development and the Regional Comprehensive Economic Partnership (RCEP) Agreement. These opportunities are for businesses from around the world – including Canadian companies and start-ups – to tap.
This webinar is designed for Canadian companies and start-ups aspiring to tap the IP Commercialization opportunities in Asia – in a strategic way.
Joseph Chaung, President, Hong Kong-Canada Business Association GTA Toronto Section, will chair the webinar and lead the gathering to start their IP commercialization and start-up journey.
Emily Mo, Director, Hong Kong Economic and Trade Office (Toronto), will set the stage by introducing Hong Kong as the ideal platform for connecting IP activities to markets in Asia through its expertise in the IP arena and its core strengths as an international business hub.
Christopher Chen, Head of Investment Promotion, Invest Hong Kong (Canada), will present the IP Commercialization landscape and opportunities for Canadian companies and start-ups.
Pan Wong, Greater Bay Area General, Piece Future, will illustrate the innovative IPHatch platform, an innovation challenge that offers patented technology portfolios of renowned MNCs for start-ups to jumpstart their deep tech foundation and scale up business. He will invite Canadian start-ups to leverage this platform and bring innovation to the market at a faster pace.
Andrew Yui, Director, Canada, Hong Kong Trade Development Council, will invite Canadian companies and start-ups to leverage the annual Business of IP Asia Forum as the window of opportunity to diversify their business footprints to Asia.
Speakers Biographies:
Joseph Chaung

President, Hong Kong-Canada Business Association GTA Toronto Section

Joseph is the Founder and President of C4P Inc which is specialized in product design and project development, sales and marketing of innovative products especially those in the green and alternative energy sector. With more than 30 years of experience in the product design and development industries in North America, Asia and Europe, Joseph has successfully worked with many inventors and designers in developing many new products.

Joseph has also been actively involved in many business and volunteer organisations. He is the President of the Hong Kong-Canada Business Association (HKCBA) GTA Toronto Section which actively assists Canadian companies in doing business with Hong Kong and through Hong Kong with other Asian countries. He is the Founder and Immediate Past President of the Oakville Chinese Business Association, the Co-Chair of the Mississauga Community Crime Awareness Day Event for many years and a Board Member of the Mississauga Chinese Business Association. He is currently a committee member of the Peel Region Police Chief's Advisory Committee, and a Director of Safe City Mississauga.

As a Director of the Product Innovation Technology Advisory Committee, Humber Institute of Technology & Advanced Learning, Joseph supports many Canadian university/college graduates in their start-up projects and business. He is a professional mentor for many Canadian industrial design graduates assisting and encouraging them to promote their inventions to the World.

Joseph has received many recognitions including a Canada Senate 150th Anniversary Medal, the 2019 Most Progressive Award from ACCE (Association of Chinese Canadian Entrepreneur). He was also invited by the Canadian Federal Government to join the Team Canada to China in 2015 led by then Prime Minister Steven Harper. He was also invited by the Ontario Government to join the Innovative Industrial Missions to Japan and Korea in 2015, 2017 and 2019.

Emily Mo

Director, Hong Kong Economic and Trade Office (Toronto)

Emily joined the Government of the Hong Kong Special Administrative Region of the People's Republic of China in 2001 as a member of the Administrative Officer Grade. In December 2018, she took up the Director post in the Hong Kong Economic and Trade Office in Toronto, the mandate of which is to foster closer economic trade ties between Canada and Hong Kong, and also promote bilateral cultural relations and people-to-people ties. Before that she had worked in different offices, including the Home Affairs Department, the then Environment, Transport and Works Bureau, the Security Bureau, the University Grants Committee Secretariat and the Tourism Commission of the Commerce and Economic Development Bureau. Before coming to Toronto, Emily served as the Deputy Head of the Human Resources Planning and Poverty Co-ordination Unit under the Chief Secretary for Administration's Private Office to support the Chief Secretary for Administration for monitoring the implementation progress of policy initiatives on human resources planning and poverty alleviation in Hong Kong. Emily received her Bachelor of Arts degree from the University of Hong Kong.

Christopher Chen

Head of Investment Promotion, Invest Hong Kong (Canada)

Christopher is the Head of the InvestHK presence for Canada, operating from the Hong Kong Economic & Trade Office in Toronto. As Hong Kong's trade consul and commercial representative for Canada, he is responsible for all activities driving new business development and direct foreign investment. He comes from a digital financial services background with over 20 years of experience living and working in Asia (Hong Kong, Singapore, Tokyo, and Taipei) working for financial services multinationals and digital marketing consultancies. Originally from Vancouver, he is a post-graduate from the University of British Columbia, with fellowships from National Taiwan Normal University and the ISEAS-Yusof Ishok Institute in Singapore.

Mr Pan Wong
Greater Bay Area General
Piece Future

Board of Governors and Co-founder
International IP Commercialization Council - Hong Kong (GBA) Chapter

Mr Pan Wong is Greater Bay Area General of Piece Future in charge of business development and looking after about 30 start-ups in HK. advise them about busienss plan and IP startegy, also help them with fund raising and looking for strategic partners. He is also Board of Governors and Co-founder of the International IP Commercialization Council HK (GBA) Chapter. Pan was the Head for South East Asia and Hong Kong business for CPA Global (a top IP solution company that handles over 60% of global IP renewal). His responsibilities included advising IP professionals and IP lawyers on matters in IP management strategies and provided support to law firms and corporations throughout the whole IP lifecycle. Pan has two decades of experience in IT security and IP working in industry leading companies. He frequently represented companies speaking in various seminars and workshops. Prior to IIPCC (GBA) HK, he has volunteered in various Hong Kong originated NGOs and associations in the director roles, helping on fund raising and organizing events for members since 2003. Pan is a Hong Kong native and a graduate of Carleton University in Ottawa, Canada.

Andrew Yui

Director, Canada, Hong Kong Trade Development Council – Toronto Office

Andrew was appointed Director, Canada of HKTDC in July 1993. HKTDC is Hong Kong's statutory body responsible for the promotion of international trade (imports and exports) in merchandise, services and technologies, via the Hong Kong platform. The Council works through a network of 50 offices worldwide. The HKTDC Branch Office in Canada, based in Toronto, is established to encourage and assist Canadian companies to diversify their business to Asia through Hong Kong. Since early 2020, to help Canadian companies to beat the COVID barrier, HKTDC Toronto Office has joined forces with like-minded multiplier partners like HKCBA, HKETO and many others in staging Canadian virtual missions to online Hong Kong international trade fairs and conferences.
Registrations are complimentary, but reservations are required.
Registration link: https://bit.ly/May18IPwebinar
Webinar platform: Zoom
Enquiries: Adrienne Ho, Hong Kong Trade Development Council, Toronto Office,
Tel: 416-366-3594 or email: adrienne.ly.ho@hktdc.org